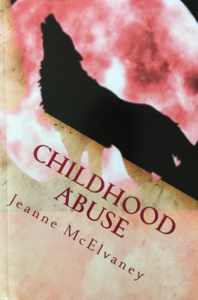 There are many reasons to acknowledge the long-term effects of our childhood abuse and heal the wounds we still carry:
To stop repeating patterns of behavior that don't serve us.
To feel empowered to make choices that honor our spirit.
To strongly connect with our inner wisdom and intuition.
To transform good lives into joyous adventures that celebrate our potential.
To discover talents and passionate interests that got buried in our experience.
To know who we are rather than who we became to manage our abuse.
This self help book for survivors of childhood sexual abuse is a gentle, encouraging, and inspiring guide to empowerment. It's a way of thinking so you can honor yourself while seeking answers that will change your life.

"May there always be a wolf howling for every child who cannot scream." ~YSA

Signed with Personal Message at Spirals
Kindle and Paperback at Amazon
Read an excerpt
# 8    See What You Are Feeling
Every survivor has a unique capacity to express their experience. I think of it as 'seeing what you are feeling'. It's also called creativity, but I hesitate to use that word because you may be like me and immediately think art. Then you might assume it has nothing to do with you. If that is so, you have a great opportunity to grow and heal.
Your creativity may be untapped or undeveloped, but you can be absolutely sure it is there to embrace. Whether you find it gardening, baking bread, embroidering, writing letters, building a boat, hiking, or a million other ways, I am talking about finding an activity that is a personal experience. It needs no other purpose than to spend joyful time with your self.
In these creative acts, we encourage ourselves to 'see'. In our healing process, we can choose these activities to bring our emotions to the surface or express the deep and profound feelings that are part of our journey.
When my healing began, I believed myself a person without a creative bone in my body. But in the upheaval of my emerging feelings, I picked up a black magic marker and a piece of typing paper and started drawing lines. I wanted to see why I was shaking and upset. I was desperate and forgot I wasn't an artist.
As the black image emerged on the white paper, relief flowed out of me like water through a dam. I realized I was drawing 'fear'. That was the emotion I was feeling. In the picture, I was a small dot, moving toward a black hole of feelings and I was afraid I would get lost in them. So I put a larger black dot beside me. I didn't have to go alone.
I was empowered by understanding what I was feeling, but even more than that, I had found a way to take care of myself. Using black markers became part of my healing because it gave me a chance to see what was so painful and overwhelming.
I've known other survivors who found relief by building childlike images with clay that reflected their own experience. One woman carved totems for her garden. There were quilts, color crayon drawings, candles created and burned, collages from magazines, letters written in the dark, and dolls made from bits and pieces found on long walks.
The results of these efforts are for us, gifts of understanding, support, and empowerment for ourselves. They can be placed where they remind us of our insights, tucked away, or tossed out.
Let your feelings and urges guide you in finding your unique creative expression. Listen to your inclination and then give it a try. It may feel awkward and even silly at first and that's okay.
As survivors, we need to practice identifying and expressing our feelings. Creativity gives us a chance to let go of the highly structured, habitual thinking that has protected us over the years. In changing our thinking pattern, we open pathways to insights about our past experiences. That is where we will find our answers and our truth.
♥.•* Let your choices and courage take you to your feelings.